Kierweb has been designing and building fast affordable custom responsive websites for clients in Carlisle, Cumbria and the UK since 2004!
With many years experience designing web sites and back end systems, you can be assured of having a 100% user friendly CMS responsive website for your business delivered quickly and cost effectively.
My Latest Website
Cottage Accommodation in the Lake District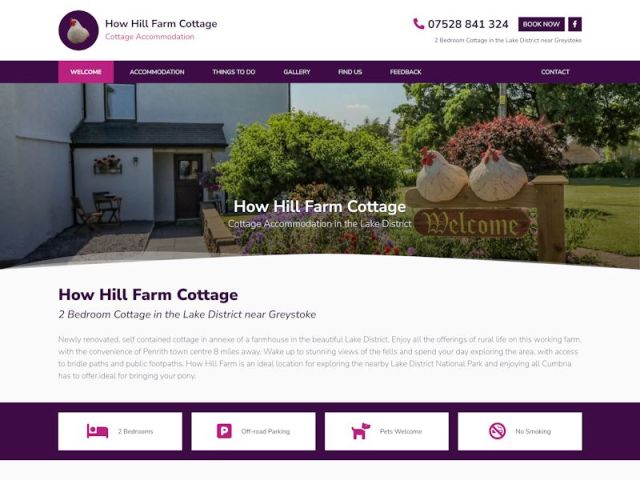 Kierweb has saved us money which, being a charity, is very important to us.
From our first dealings with Kierweb, we found Darren efficient, professional, and important when it comes to all matters computer technology, clear and easy to understand. We had been looking to change our website provider and we are very pleased we made the switch - Kierweb has brightened up our website and made it less clunky!
The site he has developed was beyond expectations
He guided me through the process, with patience and professionalism. After searching for a website designer, I was fortunate and lucky to find Darren, from Kierweb. The site he has developed has helped the business progress in a short period of time. I would recommend Kierweb (Darren) without reservation to anyone looking to have a website designed.
Wow! A web designer who responds straightaway, that is very refreshing.
Even if he can't sort it there and then, he will send you a quick email to let you know. I only required a few tweaks for an existing website, but Darren was more than happy to do these small jobs. I will not hesitate to contact him again in the future.
I wouldn't hesitate in recommending him!
I found Darren to be highly knowledgeable and dealt with my enquiry and requirements in a highly efficient and friendly way. He's really quick to respond and is always on hand if you have any queries, no matter how small
Kierweb have a done a professional and thorough job for our new website.
From initial conversations through to design, finishing with the final upload, Darren and his team have been impressively effective! His links with local photographers has further enhanced the site, capturing all that is special about our school. The all important After Sales has equally been brilliant – Darren is quickly on hand to answer any queries and help tweak the website or offer support and training to allow selected school staff to upload and manage content.
I have high expectations of customer service and Darren and the team at Kierweb have exceeded these and continue to do so. The website has become a Go To marketing tool and we will reap the benefit in years to come. Highly recommended!
We wholeheartedly recommend Kierweb.
We were looking for an affordable web design company to build a modern, informative website which we could maintain ourselves - Kierweb more than delivered. Darren listened well to our needs, came up with a clean and efficient website and taught us how to maintain it. Throughout the build Darren was readily available for any queries and quick to respond.
His solutions to problems are simple, realistic and workable.
The website that Darren built for us is far better than our expectations, considering our small budget for web development. Darren has been very easy to work with and has also been really prompt in responding to questions and queries and completing various sections way ahead of schedule.
Darren was recommended to us and we don't hesitate at all to also recommend his services as a web developer to anyone too!
We have worked with Kierweb over the last 3 years.
The professional response is undoubtedly outstanding. Any queries are instantaneously answered, giving us total confidence in our website.
They are most knowledgeable in their field
We have used Kierweb for quite a number of years and would not hesitate is recommending them for their superb quality of work and value for money service. The company is super-fast when is comes to responding to emails, something which we believe is important in today's competitive market. Likewise, they are just as happy to discuss matters via the telephone. All in all, if you are looking for quality and value-for-money backed up with the human touch then look no further than Kierweb
Darren is very competent and always obliging
We found Darren at Kierweb through viewing a website we liked and noting the web designers name. We always receive a swift response from him when requesting help or sending information through. We are very pleased with our website, it looks good, is quick and easy to use for the viewer and it meets all our needs at the moment. It is reassuring to know that if we ever need to make any changes, Darren will be on hand to help. We can certainly recommend him.
Kierweb are always there to help!
I approached Kierweb after firstly trying a few other website designers, and I wasn't happy with there approach. Not interested in what I wanted. I'd heard some great recommendations from other businesses about Kierweb. So I thought I'd give them a call. So glad I did! After an initial meeting and a few different designs done we had a final website I could be proud of. Kierweb are always there to help/change/add anything I need doing and that's a testament to the pride in their work. I'm confident that my business would not be what it is today without the help of Kierweb.
Darren provided an efficient, rapid service and his price was realistic.
He responded positively to my basic requirements and multiple ideas and dealt with all the complex IT details. Furthermore, he came up with links and other elements which were new to me. The overall appearance is attractive, civilised and professional.
I am very pleased to have a rolling sequence of photographs on the Home page and the other pages can be accessed easily and logically. My friends and colleagues are impressed. What more could I want?
I would happily recommend Kierweb to anyone
We already had a basic website. Darren guided me through the process of bringing the website up to date and mobile friendly. His efficiency and professional approach in carrying out this task impressed me greatly. Excellent job, Well Done.
No fuss, just expert support
Darren from Kierweb has made the process of creating a new website very painless.
Don't waste time worrying, just contact Darren
After worrying for ages about finding someone to update our website, we finally chose Darren after reviewing his own excellent website which showed that he had worked for many other organisations that we knew of. His service is fast and efficient plus fantastic value for money, leaving us feeling that we should have taken the plunge years ago.
We are very happy with the new website and wouldn't hesitate to recommend Darren to anyone. Being able to change photos and minor pieces of text ourselves is great, but knowing Darren is only a call away is very reassuring.
The website exceeded my expectations
I was very happy with the outcome of the website. Darren was always available and very quick in his response. Very competitive price as well. I would recommend him anytime. Very professional. Highly recommended.
'Oh it's a real one'
Liasing with Darren was easy and pain free and the website was looking good even from the first take. Having decided to invest in professional website, the task of who to choose to help create it was next. A brief look around some of the sites already done by Kierweb and the differences in each one gave the impression that each account was treated individually, not just churned out of the same format each time. The best phrase from colleagues, 'Oh it's a real one', speaks for itself really. Even if I'd tried myself and spent months on the project we would never have achieved what we have as a site.
He has helped in every step of the process and continues to be there.
Darren worked very well and clearly with me in the production of the school's website. The design and structure of the website is very professional indeed. He is always available for information and chats about what needs to be added or altered, when needed.
Cheerful, approachable and knowledgeable!
We are delighted with the website that Kierweb has developed for us and Darren's excellent customer service. Darren has gone above and beyond to guide us though the process to create a user friendly website that looks great and helps us to reach our objectives. Thank you
First Class Service
We approached Kierweb having been impressed with the website they had produced for another animal charity. Our own website lacked functionality and we had been having issues with getting any changes made. What a refreshing change it has been working with Darren!
He produced our new website in a miraculously short time, it does everything we asked for and more, and Darren responds with the speed of light to anything we ask. He is also unfailingly patient and cheerful despite our lack of technical understanding. All this for a very reasonable cost – we cannot praise him highly enough and would happily recommend him to anyone.
Darren has created a clear, attractive, uncluttered website.
He worked efficiently and effectively and offered sound, practical advice to ensure we ended up with such a great looking website and our online ticket sales increased substantially this year thanks to this easily understood website. I would highly recommend Darren at Kierweb for an affordable and accessible website management programme.
He is very reasonably priced and I couldn't be happier with the finished product.
Darren was very quick to respond to us about setting up a website for our community interest company. He understands how important a website is to capture your brand in a snapshot and was patient with us as we made (many changes). Highly recommend.
I cannot recommend Kierweb highly enough!
Kierweb took control of our existing but very dated website and created something new and special. Within days of launch we began to receive unprecedented feedback and enquires to join our youth theatre.
Darren was creative and more importantly a very good teacher explaining how to populate the site. He is always a phone call away to solve our problems.
Darren is incredible at what he does
He listened to what I needed and delivered. New website is amazing, simple for people to use and navigate which is what i needed.
Excellent service very very happy - highly recommend
We are delighted with our website
We had no experience of setting one up, but wanted a fresh, attractive and informative site for both existing and new hall users. Darren has always been very helpful, from guiding us through what we could do, to the details for the Booking Calendar and training us how to maintain the site. He was always readily available for the inevitable fine tuning of the detail. Experience using the site is an ongoing testament to his work.
He is always willing to help!
Darren has been a fantastic support when we set up our website, he listened to what we wanted and put it on the screen then allowed us to fill in the blanks. He is always willing to help with our queries and suggests things which may make our website run smoother or look better. I would definitely recommend Darren to build and support you through your website.
You can't go wrong with Darren at Kierweb!
My existing website provider was to cease trading, with very little notice. I needed to move quickly to obtain a new website. After looking at Kierweb I decided to go with Darren as his site looks highly professional and past customers are very happy with his work.
Even though we did not meet face to face due to the current Covid 19 climate and relied upon emails back & forth, the whole process was painless and highly efficient. Darren has produced the desired result and I am very pleased with my website.
I would not hesitate in recommending Kierweb. Great job !
Darren was great to work with and made the whole process painless and professional.
Our website was in desperate need of an overhaul and update and after researching web designers, Kierweb stood out, being both local and highly recommended by other organisations. The development of the website took shape as soon as we started feeding Darren our ideas and he was great at translating what we wanted into a bright, accessible and easy to navigate website.
We would highly recommend Kierweb.
Kierweb made us a professional and user friendly website
Darren understood our brand and took the time to discuss each aspect of the website with us. We have also found the site easy to edit and amend as Darren is always willing to help if needed. We would recommend Kierweb to everyone.
Darren at Kierweb is one of the easiest people I've worked with.
We are delighted with our website and thanks to Darren, has lots of extra features we didn't know were possible. He always goes the extra mile and has helped us out swiftly and efficiently whenever we've needed it. Highly recommended!
What a gem of a recommend!!!...
I was needing to be dragged into the 21st Century and wanted a website built. I had spoken to quite a few companies and the figures went from large to eye-watering to build and they baffle me with jargon! I thought I would put it out on social media for recommendations, well the number of times Darren was tagged I thought we better talk to him.
He was a breath of fresh air, talked me through the process explained everything in plain English and the cost was a fraction of what I had been quoted. A few weeks later, we had it, over the moon with the results and he has been brilliant every step of the way! I couldn't recommend Darren enough, you must speak to him before you commit to anybody else, the process and results were amazing for the cost. 5*+ Thanks very much
I cannot recommend Darren enough
Having little or no experience of anything website related. I can honestly say he was so helpful. He explained about the process enabling me to understand the importance of the design of the site. With help from my new website this has helped bring in more work. He's always at the end of the phone to help out. Great value for money and highly recommended to anyone considering this for their future business or existing business. Thanks Darren.
I could not have done it without Kierweb.
I was a complete novice when it came to websites and especially e-commerce. The whole prospect of building a site frighted to say the least. Darren quickly understood my needs and guided me through every part of the process. He took time to explain things to me and provided me with excellent training and support. We have now engaged Darren to build a second site for us and I would recommend him to anyone. I feel very confident with my e-commerce site and look forward to working with Darren again.
I have had a great experience with Darren at Kierweb.
He has delivered a great website for me that is fit for my purposes a very reasonable cost and I'm looking forward to expanding the site and our working relationship further in the future. Highly recommended.
Darren was very professional and knew his business
I heard about Kierweb Web Design from a client and decided to give them a go as we needed a new website. Darren delivered what he promised and I recommend Kierweb without reservation.
You went above and beyond what we expected of you
Can't thank you enough Darren for the work that you put in to making our website as brilliant as it is. It's great to know that you are at the end of the phone any time we need help and advice. I can and will thoroughly recommend Kierweb to all.
I cannot recommend Darren and Kierweb highly enough.
Darren really listens to what you want and need and can make it a reality using some innovative ideas and solutions. We asked for easier updating and management we got it, we asked for a template that could be adapted to reflect different schools we got it and our schools all have unique but easy to use websites.
Working with Darren is simple and straightforward, nothing is too much trouble and answers to questions or troubleshooting problems all happens at lightning speed!
Quick timescale, great communication, very competitively priced
I have worked with Kierweb now for a number of years and Darren's knowledge and skills never cease to amaze me!. The most recent project was a complete redesign of my website to coincide with the re-brand of my company. I had VERY specific ideas of the design and Darren was endlessly patient with me and full of enthusiasm to make my thoughts become reality. As always he has delivered on every level, and above all, he tried to accommodate all of my design requests no-matter how crazy! I would recommend Kierweb without hesitation, you won't be disappointed!
Kierweb has helped move our Festival firmly into the 21st century.
Darren made the process of setting up a new website for our annual Festival one of those "I wish we'd done this years ago" experiences. Darren quickly understood how to bring the many aspects of the Festival together into an attractive, informative and user-friendly website. A year sooner than planned, we were able to take entries online, saving our volunteers a huge amount of work.
Kierweb's quality and speed of service, training and ongoing support is second to none. As a regional and charitable organisation, we are pleased to have found a local business with a world-class standard of work, at very realistic prices. Highly recommended.
Where do I start....
Firstly I know nothing when it comes to computers, and Darren was highly recommended to me to do a website for me :)
He has done an amazing job, and I can't thank him enough ..... plus he has lots of patients which he needed with me ????
Darren has created a fantastic website for my business and I am over-the-moon with the outcome!
I came to Darren with a general idea about how I'd like the website to look, but left with something that far exceeded what I was anticipating. Darren also organised the web-hosting and created a specific business email address. What was particularly refreshing was that Darren didn't descend into 'computer lingo'; for someone like me who isn't IT savvy this was wonderful! I felt the price was very reasonable and the work was done promptly.
I would thoroughly recommend Darren at Kierweb for anyone who needs who needs a website.
Darren is an easy person to get on with.
We had been meaning to get a website for years, but were unsure how to go about it. We took the plunge and contacted Darren after having seen some of his work online. He is very approachable and we were soon working with him to plan and design what we needed; it was both an interesting and creative process.
The site has been up and running now for about 6 months and it has been great. We are able to refer people to our website, so they can read and download information on our courses and get the information on how to book and pay. Feedback from our students about the website have been very complementary. When the very occasional glitch occurred, a quick email to Darren meant he was straight on the case and fixed it very quickly. He took us through the process of creating our website in a friendly, straightforward way.
Many thanks Darren.
Darren was unbelievably efficient and professional
I met with a few web designers before making a decision, I am so glad that I chose Kierweb. He has created a website beyond my original expectations and I am receiving amazing feedback. Don't waste your time looking elsewhere, all you need is here.
We are really impressed with our new website design!
From the first point of contact he has listened closely to what we were looking for and, with our ideas and helpful advice form him, we now have a modern, easy to use website for our small business.
Darren's service throughout the process has been professional and reliable and he has always been on hand to answer any questions.
Kierweb has done an excellent job!
He designed our website exactly how we wanted it to look and work fantastic service - would recommend to anyone.
Darren was brilliant from start to finish.
After searching the internet to find a website designer I was recommended by one of Darren's previous customers to contact Darren at Kierweb. I'm so thankful for this recommendation, he was very informative during our first phone call conversation we had together, he managed to fit me in for my consultation the next day. His knowledge was amazing and he was very good with understanding my wants and needs and made good recommendations on how to get the best look for my website. His communication skills over email was also fantastic and quick at responding to my questions and requests, Darren got my website up and running within a week whilst ensuring that quality and professionalism wasn't compromised. I would 100% recommend anyone to choose Kierweb and Darren to if they need a website created.
Fast, highly efficient and very affordable local website design.
I contacted Darren having seen his work portfolio on his website, which included several local firms I know well. Right from my first enquiry, I knew I was in safe hands. We discussed my requirements and Darren came up with lightning-fast responses with work in progress samples that were instinctively ideal first time. He guided me through my input of wording and images with ease and kept the whole process really straightforward. I'm delighted with the completed website, which was hosted and live within a week of the first enquiry. Very happy to highly recommend Kierweb for your own website.
He's a true fountain of knowledge in his field.
Darren took my existing website and made it beautiful in a matter of days, whilst implementing SEO optimisation and giving me advice on best practices. I couldn't be happier with the end result. Faultless
Give him a shout, you'll not regret it.
Darren built our website a few year ago now. He was very friendly that nothing was a bother and he had my interests at heart when designing my Web site.
It doesn't stop there as he has updated photos, wording and added extra bits over the years. Very responsive, great value and very professional. You'd struggle to getter better 100% recommend him.
I love the clean, modern look!
Darren interpreted exactly what I wanted for my website right from the start and was able to create everything I asked for. We were up against a tight time schedule but Darren worked incredibly quickly and responded instantly to any queries or requests I had and produced the website well ahead of the deadline.
Darren is highly skilled, flexible and easy to work with, as well as being very good value for money. I would highly recommend him to anyone wanting to create a new website.
We are all most grateful to him.
Darren designed an attractive, clear and accessible site a year ago which has had many positive comments from users. As the acting webmaster, he is always quick to make the changes and additions when requested and the project is growing effectively.
We are absolutely delighted with our new school website
Darren has captured the perfect atmosphere we were looking for and as a parent quoted, 'It shows that the children are at the heart of our school.' Darren spent time to meet with us to understand our initial ideas and had a draft website to present very quickly. From this point we could edit, add to and prepare for website launch day! Darren was a pupil at Lees Hill CE Primary School and it has been great to work with him on this project. He came recommended from other local schools in the area and we would certainly recommend him too. Thank you Kierweb!